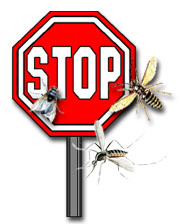 Remember that the tiger mosquito is particularly attracted by sweet-smelling perfumes and has a penchant for anything wet and damp while it finds light coloured clothing and peculiar smells repellent.

The following precautions should therefore always be taken.

Use insect repellents, avoid sweet-smelling fragrances and cosmetic products, avoid staying in overdamp areas, and wear light-coloured clothing.

Check all nooks and crannies in and around the house, use insecticides, avoid sudden movements in the presence of wasps, bees or horseflies and, if eating outdoors, always make sure to close any beverage container immediately after use.

Another tip for warding off insects both in and outdoors is to use oils or burn incense with insect-repellent odours such as geranium, citronella, sweet basil, lavender or mint.